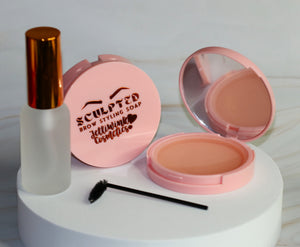 Our Sculpted Brow Styling Soap Has A Strong Hold Once Dry To Keep Your Brows In Place All Day!
The Soap Comes With A Spoolie To Style Your Brows. 
1.Lightly Dampen Your Spoolie/Brush With
Water Spray (Do Not Wet The Soap Directly! If You Do Be Sure To Let Product Dry Thoroughly Before Closing) 
2.Dip Your Slightly Damp Spoolie/Brush Into Brow
Soap In A Circular Motion To Moisturize The Soap
3.Brush The Product Through Your Brow Flicking
Upwards And Out To Create A Feathery Look.
5.This Brow Soap Can Be Worn Alone Or Over Your
Favorite Brow Cushion, Powder, Pencil or Pen.
Stearic acid, Laurel acid, 1-Octadecanol,
Magnesium sulfate, Sucrose, Glycerol,
Propylene glycol, Sorbitol, Water
Vegan
Cruelty Free
Gluten Free